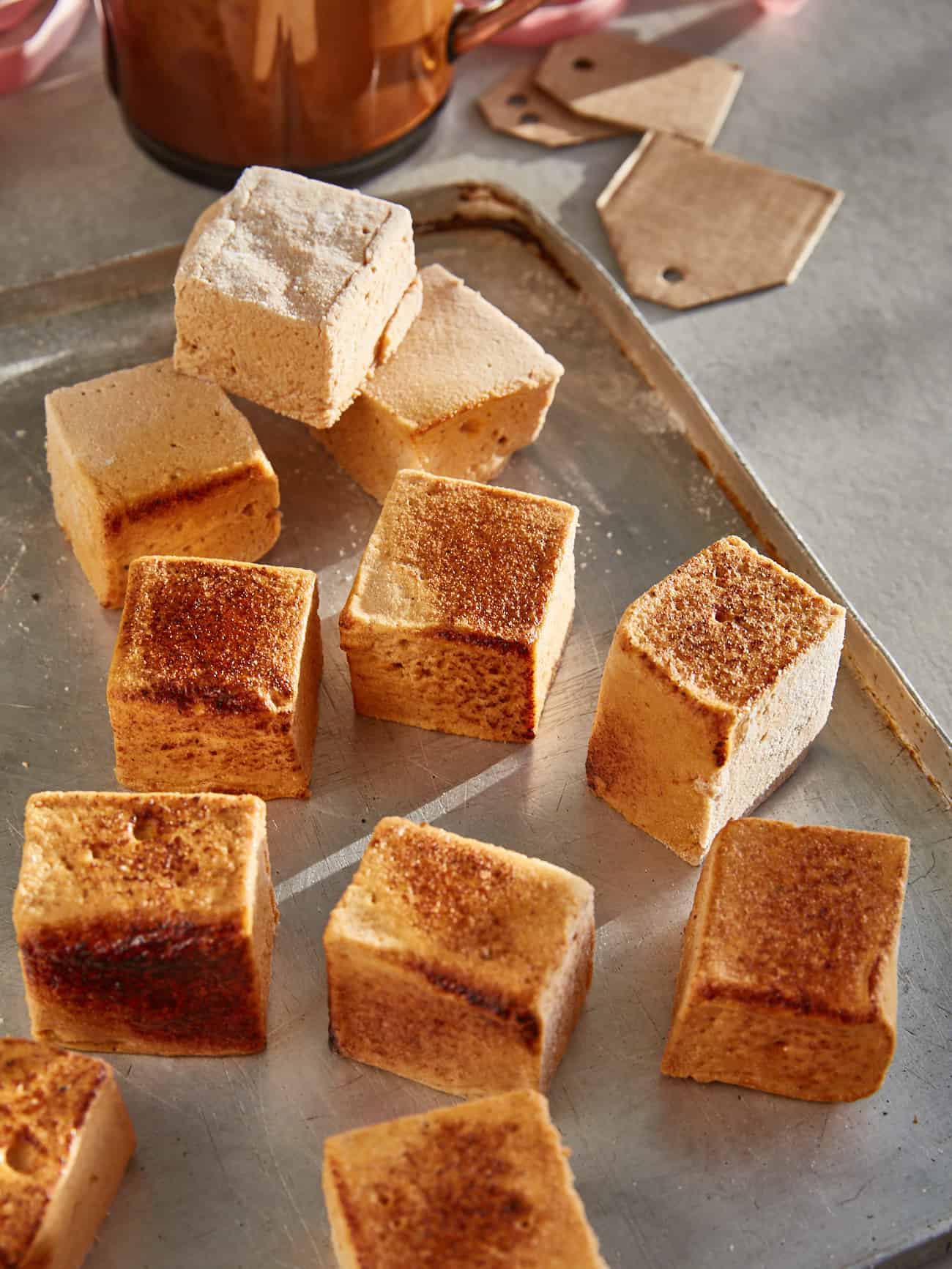 The shorter, colder days now mean that it's hot chocolate season!! And that means – marshmallows. Since it's also probably going to be a edible gift care package holiday for 2020, marshmallows are a great one to make. They last well in an airtight container and aren't fragile so they work perfectly for mailing.
Whilst I've done a few different types of marshmallow in the past, haven't ever tried using a vegetable puree in the base. For these ones, I replaced the water in my usual marshmallow base with canned pumpkin puree and it worked like a dream! I spiced these up with cinnamon, ground ginger, nutmeg and clove for that cosy, Christmassy flavour.
I use golden syrup & brown sugar in the syrup for extra flavour as I find if you just use white sugar & glucose syrup, you don't get that slightly caramel-like edge to the marshmallows. For an even deeper flavour, you can also replace 1/4 of the golden syrup with treacle which boosts that molasses hit.
(This recipe was made for a paid instagram collaboration with Lyle's Golden Syrup & I've decided to share the recipe on here too)
Pumpkin Marshmallows
Fluffy marshmallows, enriched with pumpkin spice and pumpkin puree for that perfect fall flavour. A delicious edible gift & great for hot chocolate!
Print
Pin
Ingredients
125

g

granulated sugar

125

g

dark brown sugar

210

g

Lyle's Golden Syrup

100

g

water

Pinch

of salt

125

g

pumpkin puree

15

g

(1 tbsp + 2 tsp) powdered gelatine

1

tsp

ground cinnamon

1/2

tsp

ground ginger

1/4

tsp

freshly grated nutmeg

1/8

tsp

ground cloves

Icing sugar + Cornflour

, for dusting
Instructions
Grease an 8 x 8-inch square baking tin with vegetable oil and line with a sling of baking paper. Grease the baking paper with a layer of oil too then set aside.

Combine the sugars, syrup, water and salt in a large pot and place on the stove over a medium heat. Leave to cook, stirring occasionally, until the mixture reaches 116°C. If it looks like it's going to boil over at any point just reduce the heat and the bubbles should subside.

125 g granulated sugar,

125 g dark brown sugar,

210 g Lyle's Golden Syrup,

100 g water,

Pinch of salt

Meanwhile, place the pumpkin puree into the bowl of a stand mixer with the whisk attachment fitted (or a large heatproof bowl if using a handheld electric whisk).  Sprinkle over the powdered gelatine and add all of the spices. Stir together to form a thick paste then set aside.

125 g pumpkin puree,

15 g (1 tbsp + 2 tsp) powdered gelatine,

1 tsp ground cinnamon,

1/2 tsp ground ginger,

1/4 tsp freshly grated nutmeg,

1/8 tsp ground cloves

Once the sugar mixture has reached 116°C, remove it from the heat. Start the stand mixer on a low speed (or start your electric beaters on the slowest setting) and slowly start to pour in the hot syrup, being careful to pour it down the side of the bowl rather than onto the whisk. Once all the syrup is in the bowl, increase the speed to high and whisk until very thick, pale and fluffy.

Working quickly, pour and scrape the marshmallow mixture into the tin you prepared earlier, spreading it out into an even layer. Leave to set for at least 3 hours, or preferably overnight.

To cut the marshmallows, combine equal volumes of cornflour and icing sugar in a small bowl. Dust the top of the marshmallows with this mixture using a sieve. Flip the marshmallows out onto a clean work surface (or a large piece of baking paper) and peel away the greased layer of baking paper from the underside. Dust with more of the cornflour mixture. Use a large, sharp knife to cut the marshmallows – brush the knife with vegetable oil and dust with cornflour mixture to help prevent the marshmallows from sticking to the knife.

Roll each cut marshmallow in more cornflour mixture to ensure all sides are coated. You can toss the marshmallows, a few at a time, into a clean sieve and shake to remove excess cornflour coating. Store the marshmallows in an airtight container for up to 1 month.