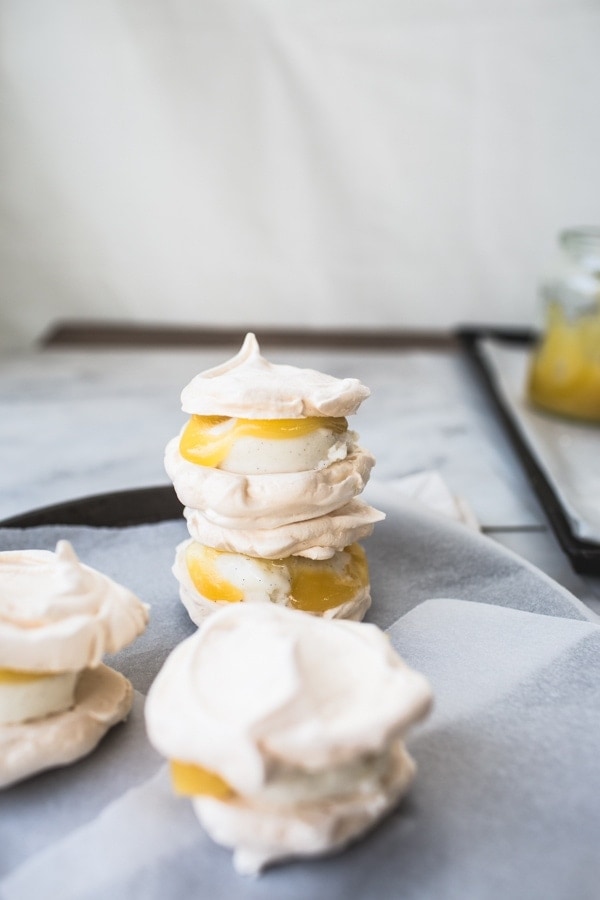 I used to absolutely hate lemon desserts (obviously the tables have turned now). I distinctly remember this fact because of the lemon meringue pie we used to occasionally get for dessert at school. I mean yeah I TOOK the pie (I'm not turning down dessert) and mostly ate the marshmallowy meringue topping. I'm pretty sure that it was basic lemon icing drizzled onto fairy cakes that converted me a few years ago and I haven't looked back since.
One of the things I particularly love is swirling lemon curd into plain yogurt to have with my muesli for breakfast as it adds loads of flavour and contrasts the creaminess of the dairy. That's where I got the idea of a vanilla ice cream + lemon curd pairing. Then of course it only makes sense to SANDWICH that all between two little, crispy meringues.
All three components of this dessert – lemon curd, vanilla ice cream, meringues – are easy to make OR, if you don't have much time, buy. I used store bought lemon curd becuase we already had a jar open in the fridge and you don't need too much for these beauties. I made the meringues so I could get the size I wanted, 3-bite-ish, and the vanilla ice cream because freshly churned ice cream is just stellar. It also meant I got to do the ice cream taste testing. And eat the coating of ice cream which sticks to the inside of the bowl.
If the logistics of ice cream sandwiches are too stressful (e.g. I have sensitive teeth so it takes me about 30 minutes to eat one :/ ) just make a citrusy ice cream variation on Eton mess: crush the meringues into large chunks and swirl, along with a few tablespoons of lemon curd, into freshly churned ice cream. Scoop generously into a bowl and grab a spoon – it's just as good.
Notes:
– Ice cream adapted from Jeni's Ice Cream base recipe
– If you want to make the lemon curd, I recommend Delia Smith's recipe
Ingredients
For the meringues:
2

egg whites

1/2

cup

(110 g) caster (superfine) sugar

1/2

tsp

vanilla extract

1/2

tsp

lemon juice
For the vanilla ice cream:
2

cups

(500 ml) whole milk

1

cup

(250 ml) double (heavy) cream

1/2

cup

(100 g) granulated sugar

1

tbsp

plus 1 tsp corn flour

, (cornstarch)

1

tsp

vanilla bean paste or 2 tsp vanilla extract

Lemon curd

, , for assembly
Instructions
Make the meringues:
Preheat the oven to 230 F (110 C) and line a baking tray with baking paper.

Place the egg whites in a large clean bowl and beat with an electric whisk until frothy. Add the lemon juice and continue to beat whilst gradually adding all the sugar until stiff peaks form. Take heaped tablespoons of meringue and dollop them onto the lined baking tray, spreadign them out slightly with the back of the spoon. Place into the oven to 70 minutes then switch the oven off and leave in the oven with the door closed for a further hour.
Meanwhile make the ice cream:
Place the cornstarch in a small bowl and set aside.

In a large pot heat the milk, cream and sugar over a medium heat stirring until the sugar has dissolved. Take about 1/3 cup of this liquid and gradually stir it into the cornstarch in the bowl until smooth and fully mixed. Pour this cornstarch slurry back into the pot and stir to combine. Continue to stir and cook this mixture over a medium-low heat until thickened (5-10 minutes) then pour into a jug and chill until completely cool. Once cooled churn the mixture in your ice cream maker according to the manufacturers instructions. Transfer the churned ice cream to a lidded container and freeze until needed.
To assemble:
Spread about 1 tsp of lemon curd onto the underside of a meringue. Top with a scoop (mine is a 2 tbsp ice cream scoop) of the vanilla ice cream and sandwich together with a second meringue. Eat immediately or wrap the sandwiches individually in cling film and freeze for up to 1 week.
Thanks to Cuisinart for sponsoring this post! All opinions are my own.