Am I late to this party? Has the ship already sailed? Does everyone know about not using stupid mandolines to cut zucchini into ribbons?
Ima pretend that this is brand new information and I have discovered the lazy way to make zucchini spaghetti, i.e. without a mandoline or peeler or spiralizer.
No fancy tools required.
We are going to use the humble box grater to create those luscious strands of goodness.
You may wonder why I'm hating on mandolines so much.
No, I haven't cut myself on one yet (which is pretty strange), but I just find them soooo annoying.
First, you have to be super careful when you're using them, and when I'm rushing around in a kitchen or my hands are shaking because I'm SO HUNGRYYY, I don't want to have the added pressure from the impending doom that awaits my hand. If I just 'ooops' slip for a second, I could be slicing through flesh. My flesh. No me gusta. (do not tell me about spiralizers. Yes they're awesome, and yes they also protect your hands but I don't have the space or cash for such a fancy gadget!)
Second, is the washing up. Again, you have to be careful of that sharp, sharp blade (which, when making spaghetti-style cuts, is also JAGGED), and all the zucchini bits get stuck in the nooks and you have to try to caaarrrefffuullllyyy remove them.
Third, the mandoline is on the other side of the kitchen in a different drawer to the other utensils I'm using and I don't want to have to be making all these stops around the kitchen when clearing it all up (see, I told you it was the lazy girl's version)
Fourth, not everyone owns mandolines. Probably because of some of the above reasons, and also because they aren't really that versatile. Well, not as versatile as a box grater, right?
 The box grater on the other hand, is dull enough for me to feel that my hands are safe from looking like they went into battle, yet sharp enough to cut into the zucchini with ease.
It's also smaller, so it easier to hold, and lives in the same drawer as the frying pans! Plus washing it up takes 0.5 seconds.
But how can we create long ribbons of zucchini, instead of short shreds?
Hold the grater like a mandoline!
You put it on its side, with the face you want to use (the thickest grater) facing up, and use it just like you would a mandoline (minus the pain and fear!!) moving the zucchini along it in long strokes to create the ribbons.
Then I just fry it up with a bit of garlic (or go the lazy way and season w/ garlic salt 🙂 ), and use it like I would normal spaghetti.
As it's summer time now (I think it is, but the weather is disagreeing) I went for a super green theme with peas and pesto. I also stirred in some crème fraîche, and served it on top of some spinach with Parmesan shavings and lemon zest (trust me with the lemon zest, it really makes all the difference). I can imagine how good this would be with some croutons thrown in, ooooh but do not get me started on that.
I've also made this (with ricotta in place of the crème fraîche) and eaten it atop crostini which was DELISH.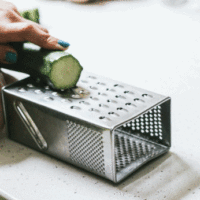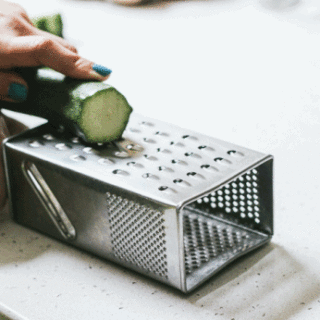 Ingredients
1

medium zucchini

, , washed

1

tsp

olive oil

1

clove

of garlic

, , peeled + finely minced

2

tsp

basil pesto

1

tbsp

crème fraîche

, , cream cheese, ricotta or mascarpone (half-fat, full fat, whatever you want!)

1

handful of fresh or frozen peas

salt and pepper

lemon zest and Parmesan cheese

, , to finish
Instructions
Take a box grater and place it on its side with the side with the largest grating holes on it face up.

Cut the ends off the zucchini, then push along the top of grater, in long strokes in order to create long, thin ribbons of zucchini (see the animated .gif in the post).

Heat a skillet with the olive oil, then gently fry the zucchini with the garlic until slightly tender. Stir in the pesto, crème fraîche (or whatever creamy ingredient you're using) and the peas (even if they are frozen. They'll defrost quickly in the frying pan). Stir until coated, season with salt and pepper, then take off the heat.

Pile it into a dish (I served mine on a bed of raw spinach leaves), and grate over some lemon zest and Parmesan.